The "Maxi" model was created for the need of tall shooters. With its 10 mm extra length in the body only, it makes this stock essential for shooting giants. The simplicity of the adjustments and the dampening of the recoil remain unchanged.
Warning: selecting the Benelli 828U as the brand of shotgun, it will be possible to select only the New Comfort 828U pistol and the sizes S, M and L.



Tutti i campi sono obbligatori. Inserisci tutte le informazioni per poter acquistare il prodotto.
All FK6 stocks are equipped with the revolutionary new plate.
A multifunctional system for quick hooking/unhooking, which also allows further adjustments.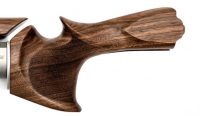 | MEASUREMENT | Height h | Length L |
| --- | --- | --- |
| XS | 75 mm | 93 mm |
| S | 82 mm | 99 mm |
| M | 90 mm | 105 mm |
| L | 90 mm | 112 mm |
| XL | 100 mm | 112 mm |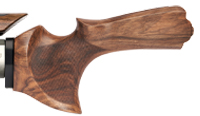 | MEASUREMENT | Height h | Length L |
| --- | --- | --- |
| S | 80 mm | 95 mm |
| M | 90 mm | 105 mm |
| L | 97 mm | 112 mm |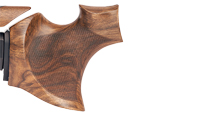 | MEASUREMENT |  Height h |  Length L |
| --- | --- | --- |
|  S |  80mm |  97mm |
|  M |  90mm |  107mm |
|  L |  97mm |  112mm |
Ask for your own version of our adjustable stock