Futur-K6 – Elegant – F0045-4
The Elegant model is characterized by the brand new anodized bronze color, which goes perfectly with the butt plate and the wooden nose pad. In this version the screws have the new black color with resistance and anti-seize characteristics making them also resistant to wear and scratches.
Warning: selecting the Benelli 828U as the brand of shotgun, it will be possible to select only the New Comfort 828U pistol and the sizes S, M and L.
Tutti i campi sono obbligatori. Inserisci tutte le informazioni per poter acquistare il prodotto.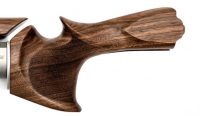 | MEASUREMENT | Height h | Length L |
| --- | --- | --- |
| XS | 75 mm | 93 mm |
| S | 82 mm | 99 mm |
| M | 90 mm | 105 mm |
| L | 90 mm | 112 mm |
| XL | 100 mm | 112 mm |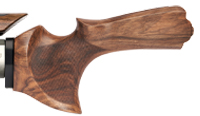 | MEASUREMENT | Height h | Length L |
| --- | --- | --- |
| S | 80 mm | 95 mm |
| M | 90 mm | 105 mm |
| L | 97 mm | 112 mm |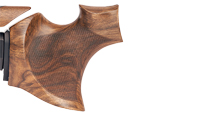 | MEASUREMENT |  Height h |  Length L |
| --- | --- | --- |
|  S |  80mm |  97mm |
|  M |  90mm |  107mm |
|  L |  97mm |  112mm |
Ask for your own version of our adjustable stock